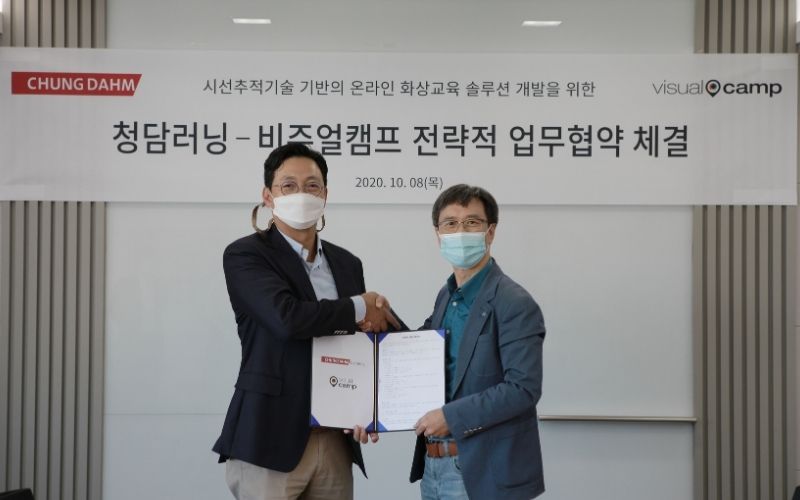 [2020.10.08] Today, VisualCamp sign MOU with Chungdahm Learning, the one of fast moving education company integrating ICT solution for R&D cooperation to develop online remote class based on eye tracking technology.
Last March, Chundahm Learning also launched 'Live Class', and the number of students are continuously increasing. Many education companies launched online class because of pandemic, but it has limitation to provide quality learning experience. This partnership will help to overcome teachers' difficulties teaching students through online remote class.
VisualCamp's eye tracking software will provide important functions to monitor students include letting lecturer knows which students has low rate of attention and analyzing odd eye pattern while taking test. The ultimate goal of this partnership is building real-time online remote class with well structured managing system using students' gaze data.
Donghun Lee, CEO of Chungdahm Learning said "It's exciting to co-develop our remote class with skillful eye tracking company. With VisualCamp's eye tracking technology , Chundahm learning's online remote class will change the future education."
VisualCamp's CEO, Yunchan Suk said, "We are glad to have opportunity working with Chungdahm Learning. Education is important area to us as eye tracking tech leading company. " and said, "The result will bring new way of communication. We are ready to create the way"
Korean Article -> http://www.startuptoday.kr/news/articleView.html?idxno=40486